Offering the world's most powerful natural water and fuel solutions for home, agricultural and even motorcycles, EnviroMagnetics has applied breakthrough technology in the field of monopolar magnetic treatment to create affordable energy and environmental savings. Two of its latest products focus on saving customers fuel costs and reducing the environmental footprints of homes and motorcycles. These are the:
Fuel Oil Super Saver
Motorcycle Super Saver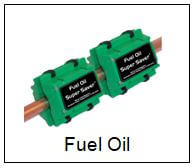 The Fuel Oil Super Saver is a breakthrough technology designed for homes and small businesses. It is an easy-to-use, fuel-saving conditioner for fuel oil heating systems that incorporate NASA magnetic fuel science to increase combustion efficiency by releasing more energy resulting in using less fuel to maintain the same heat. The Fuel Oil Super Saver is installed just before the heating system's burner in only minutes and begins producing fuel savings immediately. Within three to four days, the Super Saver stabilizes at 20-30% savings with a 90-95% reduction of harmful emissions.
The Motorcycle Super Saver increases the combustion efficiency of any motorcycle, resulting in less fuel required to produce the same amount of energy. Easy to install in minutes, the Motorcycle Super Saver System delivers benefits immediately and over the entire motorcycle's lifetime. These benefits include:
Saving money – test results show 25% fuel savings
25% longer distances on a single tank
More power through greater combustion output
Smoother running: High Octane benefits from Regular Octane fuel
90-95% reduced emissions for cleaner breathing air
EnviroMagnetics Fuel Super Savers are engineered to provide the exact energy necessary for the specific type of fuel to maximize combustion efficiency for savings, power and emissions reduction. The Super Savers are guaranteed and come with a lifetime power warranty.
Using Nature's Power of the Universe to save money and the environment by reducing costs and emissions, EnviroMagnetics is the industry leader in green energy technology.